Welcome To MH-Processing by On The Level
Puzzled About Manufactured Home Lending and Title Requirements?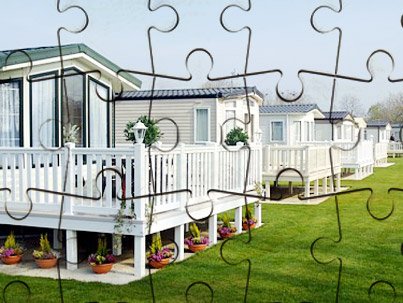 California: The 433A Curative Title Solution
The Personal vs. Real Property Puzzle:
Manufactured homes that are situated on deeded real property may still be classified as personal property (chattel) with the Department of Housing and Community Development (HCD) even though the borrower is paying property tax! Since most lenders, title companies and attorneys require proof that the home is attached to and classified as real estate via a recorded 413 or 433A document, a last minute discovery that a home has not been properly converted can impede a time sensitive transaction or foreclosure.
Unlike other states where classifying a manufactured home as real property can be as simple as a paper filing that can be expedited by a homeowner or escrow and a DMV, California has a collection of jigsaw pieces that need to be matched up perfectly. Curative title requires cooperation of a building authority, contractor, and the State (HCD), all working collectively.
We are uniquely qualified for California's title perfection and conversion process. On The Level's MH Processing Division can put the pieces of the puzzle together, working with contractors, building departments and the Department of Housing and Community Development to tackle California's unique 433A issues.
The Foundation Certification Solution
Sometimes proof of a 413 or 433A is not enough to satisfy underwriting requirements. For instance, FHA loans and some VA also require a site specific engineer's certification that the foundation meets HUD guidelines. Some conventional loans require that an engineer certify that any additions or modifications do not impact the structural integrity of the home.
On The Level's MH-Processing Division can help you tackle most manufactured home issues for the sales and lending process, whether it is a HUD compliant Engineer's Certification or a foundation repair. We talk lender language so let us tackle the difficult questions.
The California Puzzle

What does California consider a permanent foundation?
In California an engineer's opinion alone is not enough to verify a foundation. A recorded "Notice of Installation" aka 433A is the recognized California stamp of approval for a permanent foundation. Beyond proof of a permanent foundation, the 433A is also a title conversion document, verifying that the home and land are conjoined as real property.
So how does one acquire a 433? California has a number of stamped and approved engineered plans that carry the designation "Permanent Foundation" under Health and Safety Statute Title 25, Section 18551, which can be installed by one of our network contractors. Presenting these plans to the local building department for a permit, having a contractor install a system (followed by a building inspection and 433A sign-off) and then recording is all part of the standard modus operandi. On The Level has 25 years of working with building departments, code enforcement, Department of Housing and Assessor's Offices for a turnkey title and recordation process.
The Foundation Puzzle

How do you determine if a manufactured home has a Permanent Foundation? Since HUD does not have a blanket foundation approval policy and different manufacturers have different designs, foundation determination can be open for interpretation. Therefore to protect lender and provide FHA/HUD with compliance continuity, a certification by a civil or structural engineer specifying that the foundation meets HUD Permanent Foundation Guide For Manufactured Homes, September 1996 is required on all FHA-insured loans. MH-Processing has a qualified network of engineers and foundation repair experts.
Manufactured Home Loan Checklist
Download Our Disclosure Agreement
In California we provide a specialized service, tackling troublesome title conversion issues which can usually only be resolved by working with building departments and/or the State Department of Housing and Community Development (HCD). To that end, On The Level connects contractor competence with documentary compliance so that errors can be avoided or past mistakes can be corrected. With our working knowledge of titling, relationship with HCD, understanding of HUD insignias, legal procedure and filing requirements, we are happy to work with your escrow, title company, legal or underwriting team to get a 433A recorded in a timely manner.
The reality is that there have been critical past missteps in the lending, escrow and title arenas, often resulting in different names on home and title or non-existent lenders still showing as the legal owners of the property. This creates burdens on investor portfolios, possible HUD/ FHA insurance denials, and improperly securitized instruments to protect the lender or investor at the time of default.
With On The Level at the helm, you can usually count on us to fast-track troublesome manufactured home files. Our 25 years of field experience, coupled with our 15 year track record with lenders gives us the know-how to overcome bureaucratic obstacles. We are able to anticipate varying building permit fees and requirements, inconsistent interpretations of the state code among city and county building departments, the temperamental personality traits of building technicians and inspectors, ultimately acquiring the paperwork for the documentary evidence that is the heart of title perfection.
Want to Know More? Contact Us Today